Kingdom Center Church was founded in 2009 by our Overseers, Pastor V Sterling Allen & Lady Gerri Allen. We are a multicultural inter-denominational ministry, a standard of living, and a movement founded on the Apostolic Doctrine. It is our aim to share and teach the message of the Kingdom and the finished work of Jesus Christ by operating as a Five-Fold Ministry.
Pastor Frederick O. Newell is a native of Chicago, IL and has lived in the Iowa City area since 2006. Pastor Newell been active in ministry since his teenage years. His childhood church until joining the Kingdom, was the First Pentecost Assemblies International Church of Harvey, IL under the leadership of Bishop Ernest Owens. In 2009, he joined the Kingdom Center and has served in various roles throughout the years from armor bearer, deacon, minister, trustee, youth ministry leader, and wherever else there was a need. Since 2009, he has been spreading the gospel through teaching and preaching. Along with being a father and husband, he is a coach, mentor to many, counselor to some, community activist, faithful believer in the gospel, and a servant leader.
Lady Tianna Newell, affectionately known as "Lady Tianna" is a native of Chicago, IL and has lived in the Iowa City area since 2009. In 2015, she joined the Kingdom Center Church and has served in the role as an administrative assistant, a greeter, and on the finance team. Along with being a mother and wife, Lady Tianna has a passion for mentoring young women and mothers in her community with a particular focus on empowerment. She also takes great pride in serving students and families in her role within the Iowa City Community School District. In the fall of 2017, she made the decision to further her education at Upper Iowa University as a psychology major. She consistently uses her own life's story as a testament to the grace of God, being an example of a believer and declaring that in Christ you may be delayed, but you're never denied!
Kingdom Iowa is reopening the doors of our sanctuary. At this time we have transformed our sanctuary to accommodate social distancing and a safe worship experience. If planning to attend any service, mask must be worn for the duration of all services and events.
We invite you to join us for our weekly services and events. Check out our calendar for what's happening here at Kingdom.
​
​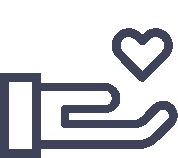 "For I was hungry, and you fed me. I was thirsty, and you gave me a drink. I was a stranger, and you invited me into your home. I was naked, and you gave me clothing. I was sick, and you cared for me. I was in prison, and you visited me."
Engage - equip- Empower - excel - expand